India's Online Gaming Evolution: Insights into the latest amendments to the IT Rules, 2021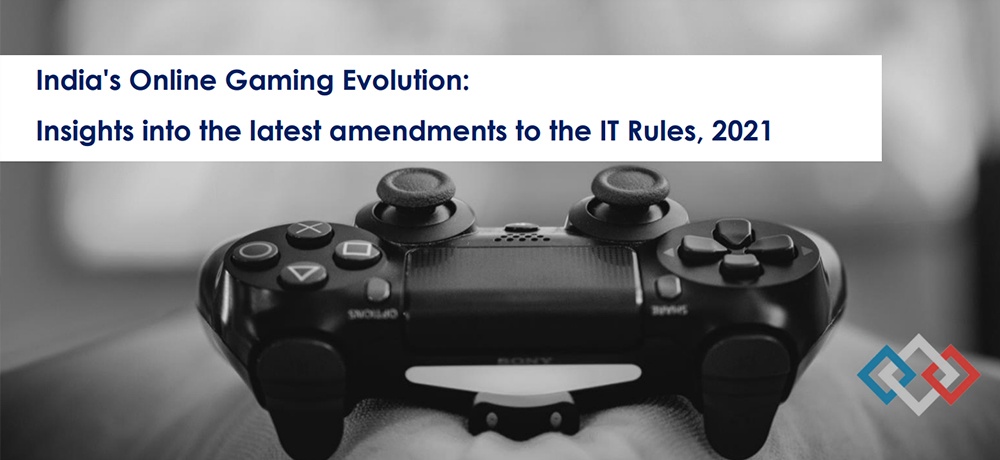 Previously, the Ministry of Electronics & Information Technology ("MeitY"), had released the proposed amendments to Information Technology (Intermediary Guidelines and Digital Ethics Code) Rules, 2021 ("Rules") relating to online gaming, for public consultation inviting feedback and comments from the public ("Draft Amendments"). For more details on the Draft Amendments, you may refer to our article on Online Gaming – Now on the path of regulation.
On 6th April, 2023, MeitY revised the Draft Amendments and notified the Information Technology (Intermediary Guidelines and Digital Ethics Code) Amendment Rules, 2023 ("Revised Amendments"). The Revised Amendments have been introduced with an aim to enforce greater due diligence by online gaming and social media intermediaries in respect of online games & fake or false misleading information related to Government business.
Key highlights of the Revised Amendments are as under:
MeitY has made certain revisions to the definitions previously proposed under the Draft Amendments and introduced new definitions such as 'Online Real Money Game', 'Permissible Online Game' and 'Permissible Online Real Money Game'.
Given that the definition of Permissible Online Game has been kept broad, the intermediaries would be required to verify all of its online games by a Self-regulatory body ("SRB") in order for them to be considered permissible.
The intermediaries are required to exercise due diligence in hosting, publishing, or sharing online games. This provision places the responsibility on intermediaries to ensure that the games offered on their platforms do not cause harm to users and have been verified as permissible by designated SRBs.
Additionally, the amendment emphasizes the importance of transparency in advertising and promotions of online games. Intermediaries are now prohibited from hosting advertisements or promotions of online games that are not verified as permissible by SRBs.
Further, the Revised Amendments make it obligatory on the intermediaries to not to publish, share or host fake, false or misleading information in respect of any business of the Central Government.
Separately, the intermediaries must note that the obligations under the Rules would become applicable on them upon expiry of a period of three months from the date on which at least three online gaming self-regulatory bodies have been designated by MeitY. Thereafter, the intermediaries would be required to comply with the latest Rules.
The Revised Amendments represent a turning point for intermediaries in the online gaming landscape. While the Revised Amendments introduce certain challenges and requirements for intermediaries, they are ultimately aimed at fostering a secure and accountable online gaming environment in the Country. By actively embracing these changes, intermediaries can contribute to building a thriving industry that not only prioritizes innovation but also safeguards the interests of users.
---
---