How the Business Law Chamber Helped a Client Facing Sanctions for Non-Compliance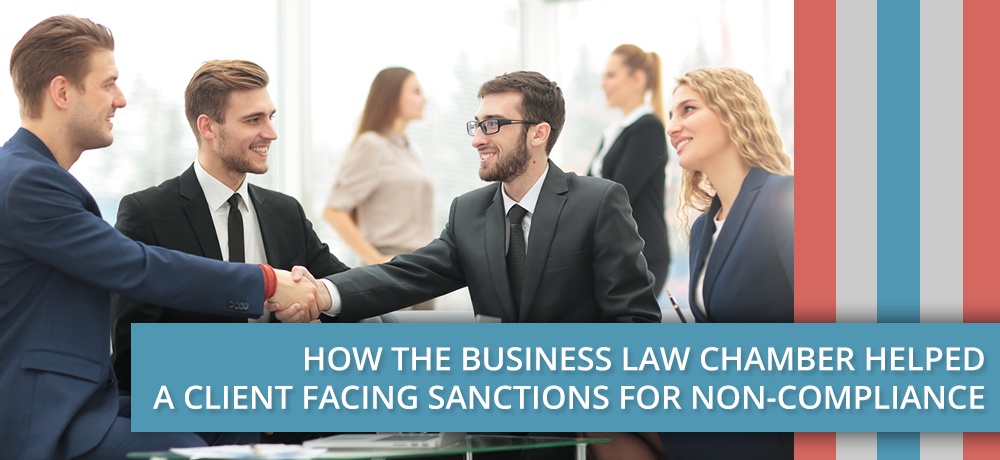 Business law encompasses all of the laws that dictate how to form and run a business. This includes laws that govern how to start, buy, manage and close or sell any business. Violation of these laws leads to the placement of a noose around your neck which sooner or later will suffocate your company and its chances of growth and profitability.
Whether you are an entrepreneur starting your own business, a manager advancing your career at a Fortune 500 company, or just starting out in the business world, business law is not to be trifled with. If you're unfortunate enough to find yourself on the wrong side of the law, it's best you get professional help as soon as possible.
At Business Law Chamber, we understand business laws like no one else and always work towards ensuring that businesses follow these rules.
Keep reading to learn about how we helped a client facing sanctions for non-compliance.
The Challenge: Non-compliance leading to a standstill in business.
We were once approached by a company registered in India that had certain non-compliances regarding non-payment of government dues, employee dues, etc. As a result, the company's business was impacted.
The non-compliance had a domino effect on the company, and soon, the business of the client came to a standstill. Investors were no longer willing to invest in the company. This resulted in the company being in dire need of funds to clear off any dues as soon as possible. There were also multiple restrictions imposed on our client by governmental authorities.
We were tasked with the major challenge of getting the non-compliance resolved and getting the business of the company back in order.
The Solution: Getting the company to spin off and create an independent entity.
After getting a thorough understanding of the company's practices, we engaged in detailed research and a number of meetings. Based on our understanding of the problems, we spent several hours pondering over a situation, until we had a 'Eureka' moment.
We analyzed all the possibilities and figured out that the best way to bypass the present impasse was to get the company to spin off and create an independent entity out of it.
This independent entity, though still being a part of the parent company, would have all the assets of the company, transferred to it. Now, since the defaulter (parent company) was in need of urgent funds to rectify its non-compliances, we had different company (X) invest its funds in the newly formed independent entity in a favorable jurisdiction, which was a part of the parent company from which it spun off.
The primary challenge while trying to execute this sort of a plan was researching something new, as this was altogether a different issue which required out of the box thinking. The ability to come up with a solution pertinent to the problem was possible only because we spent significant hours researching, coupled with round the clock work hours, as well as tremendous efforts and perseverance on the part of the Business Law Chamber team.
Due to these hours of research and marathon meetings with the clients, board, and investors, we were finally able to create a win-win situation for all the parties involved. The case took its toll on us, but it was nonetheless an experience worth having. After several weeks of sleepless nights, we were able to turn the sanctions around and successfully resolve all the issues of non-compliance that was thwarting our client, within forty-five days.
The Bottom Line
At Business Law Chamber, we boast of excellence in the corporate laws of India for USA, Australia, Canada and UK firms. We have our corporate law firm offices are in New Delhi, Kolkata, and Singapore. With over fifty years of collective experience, our efficient and professional team includes lawyers, chartered accountants, and a company secretary. We represent clients and provide complete assistance on legal matters and have complete transparency in our dealings. To get started on your stress-free business-related legal services, get in touch with us by clicking here. To learn more about how we can help you, please click here.